Since the Owners Forum opened a year ago 139 owners have joined, many of whom have started or participated in discussions. Why do we need a forum? Anyone who has attended the Wednesday evening Owners Drinks will know that fellow owners are a great source of information and inspiration.
The great advantage of the online forum is that you can use it all year-round and wherever you are - all you need is an Internet connection.
Don't worry if you're an Internet novice - this guide doesn't use jargon and there are pictures to show you what to do. The address of the forum is:
www.RochaBrava.net
Or else you can simply type the following words into Google:
rocha brava owners forum
Got there? Here's what you'll see the first time you visit:
<![if !vml]>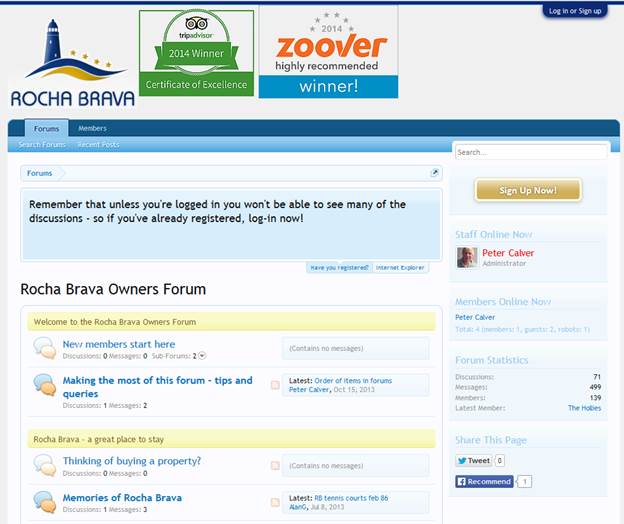 <![endif]>
See the button near the top right "Sign Up Now!"? Click it and this is what you'll see at the top of your screen:
<![if !vml]>

<![endif]>
Type your email address in the first box (not your name at this stage), and make sure the "No, create an account now" box is selected (if not, just click it). When you're ready click the "Sign Up" button.
<![if !vml]>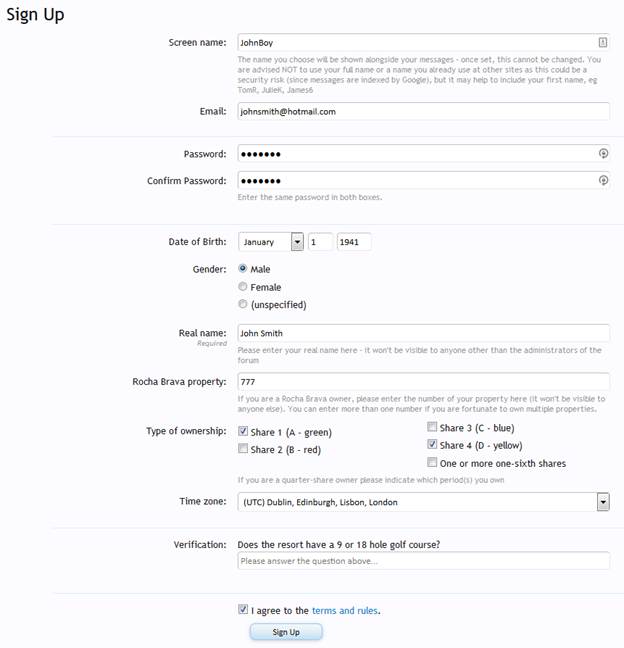 <![endif]>
Your "Screen Name" is the name that appears alongside any messages you post on the forum - read the advice in the small print before you choose.
Please note that you DON'T have to enter your date of birth - it's optional. But do please include details of your Rocha Brava property as this helps the committee deal with any issues you may have. The final (verification) question helps to ensure that only Rocha Brava owners are able to post on the forum - no riff-raff allowed!
We're nearly there - when you click "Sign Up" you'll receive an email which looks rather like this:
<![if !vml]>

<![endif]>
Simply click on the link to complete your registration and confirm that your email address is genuine.
And that's all you need to do. However, you won't be able to post messages immediately, or access the parts of the forum that are only open to owners - because all new registrations are approved manually by the forum administrator. This can take a day or two - but you'll receive an email when it happens.